How do you choose your next destination?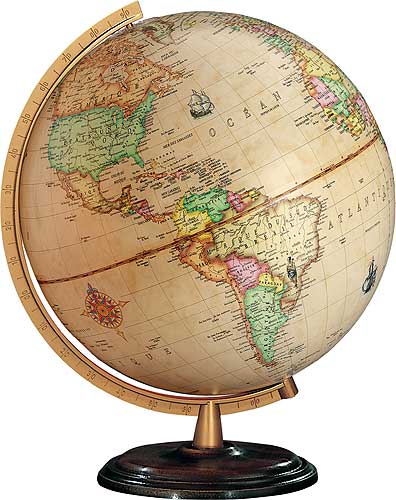 On the desk of Derk Richardson, senior editor for Afar magazine, sits a globe which he uses to send writers to a random destination. I caught up with him at Afar's 2nd issue launch party in San Francisco to find out more. One imagines him spinning the globe with his eyes closed, stopping it with a finger and seeing where it lands.
Instead, his globe holds slips of paper with the names of cities inside. He gives it a whirl, and then reaches in to pull out the chosen writer's destination like a raffle ticket. When the globe was spun for Rolf, the lucky winner was St. Petersburg, and you can read about his night-shifted experience in the current issue.
When my wife and I decided to go to China to see a total solar eclipse this past July, there was the obvious question of where to be for the celestial event itself. I started by looking at the path of totality, and figuring out what looked promising in terms of distance away from Shanghai, fewer crowds, and the likelihood of clear skies.
While researching various inland options, my attention continued to be drawn seaward, towards the Zhoushan archipelago. In particular, the island of Putuoshan intrigued me, being both remote and spiritual. What could be a more appropriate place to watch our first solar eclipse than the earthly home of Guanyin, the Bodhisattva of Mercy?
As it turned out, the Dragon King of the East China Sea, Ao Guang, wanted the sun all to himself that day and summoned thick clouds that hid the eclipse from view for most of the region. Despite that disappointment, our choice of Putuoshan was the sacred place we were looking for.
Now we're starting to plan what we hope to be a six month trip in 2010 starting in Latin America, and then across northern Africa, eastern Europe, and southeast Asia. As a more modern version of sticking thumbtacks into a map on a wall, we created a Google "My Maps" with both of us being collaborators, so that we can add or remove possible destinations, as well as add notes as we gather more information such as weather, exchange rates, or points of interest.
How do you decide on where to travel next?