How to find an untraveled route to Santiago de Compostela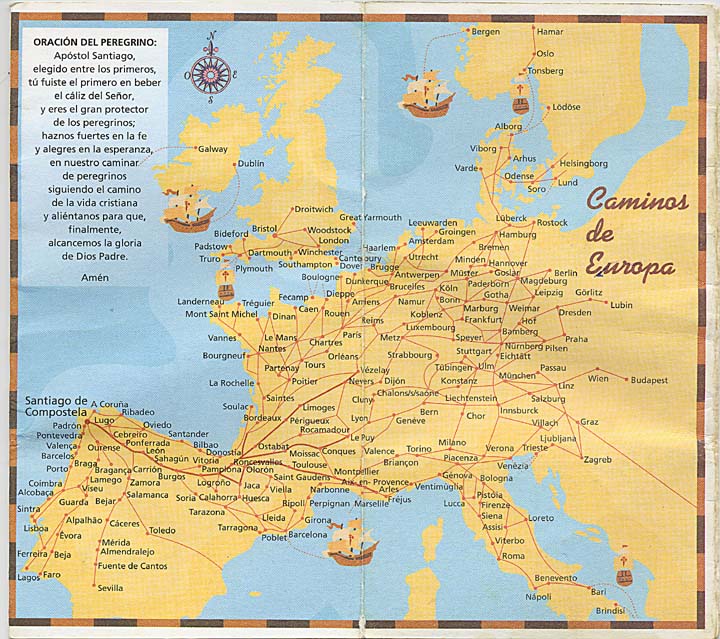 First, decide you're going to go.
The untraveled route is the route you haven't taken yet. Or maybe it's your old route with new eyes.
Go on foot. Bike. Horse. Rollerblade, skateboard, pogo stick.
Start climbing from Saint-Jean-Pied-de-Port or descending from Roncesvalles — it really doesn't matter. Avoid the debate and start in Pamplona. Start in Burgos or Vézelay, León or Le Puy. Start from Taizé with a chant in your head.
Go from Granada and ascend the Mozárabe, or north from Sevilla on the Vía de la Plata — or start where they merge at Mérida.
Start in Lisbon or Lubin, Lagos or Lund. Throw a dart and choose randomly. Start in Sarria and walk the last 100km. Start in Lavacolla, only 10k away.
After the war, walk to Kanyakumari, then turn and walk back to the far tip of Spain. That's what Diego did.
Start in California, walk to the Atlantic, fly to Portugal, pass through Santiago and continue on to wherever.
Go well-prepared in the winter and hope for the best. Or walk into Santiago with the throngs on St. James' Day, Sunday, July 25.
Try ten miles max per day for at least a day.
Go when you're 60. Or 72. Or now.
Walk out your front door and keep on walking.
Just go.